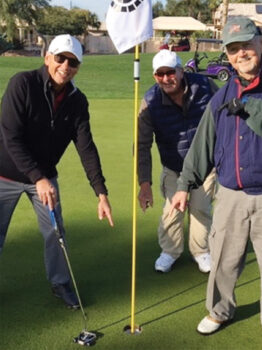 Chris Duprey
Dale Tietz received an early Christmas present on Dec. 14 when he got his first hole-in-one on Hole 13 on Tuscany Falls East.
He was playing with his Bunker Boy group and was paired with Rick Sherwood, Jack Skirnick, and Ernie Kotyluk.
Dale indicated that he was in a horrible golf slump but he unbelievably hit a perfect 7-iron on the 130-yard hole! He thought it was a really good shot right away and it was going towards the pin. However, a shadow was over the pin and no one could see his ball disappear into the cup.
Dale went up to the green feeling hopeful, but he still brought his putter along. He saw three balls on the green, but none were close to the pin. He went up and peered sheepishly into the cup and did not see the ball! But then he bent over a little further and there it was!
Dale bought drinks at the Toscana bar for the 12 Bunker Boys playing that day. They continued the celebration at the Tietz residence. Still in the partying mode, Steve Rottger and his girlfriend, Barb, invited everyone over for a homemade spaghetti dinner which included an amazing sauce. On the spur of the moment, Steve and Barb ran to the grocery store and had a cake decorated for the occasion: "Dale's First Whole in One". Obviously, the cake decorator in the Bakery Department wasn't a golfer and had no clue what they were writing! It was the perfect ending to a very special day. Congratulations, Dale!