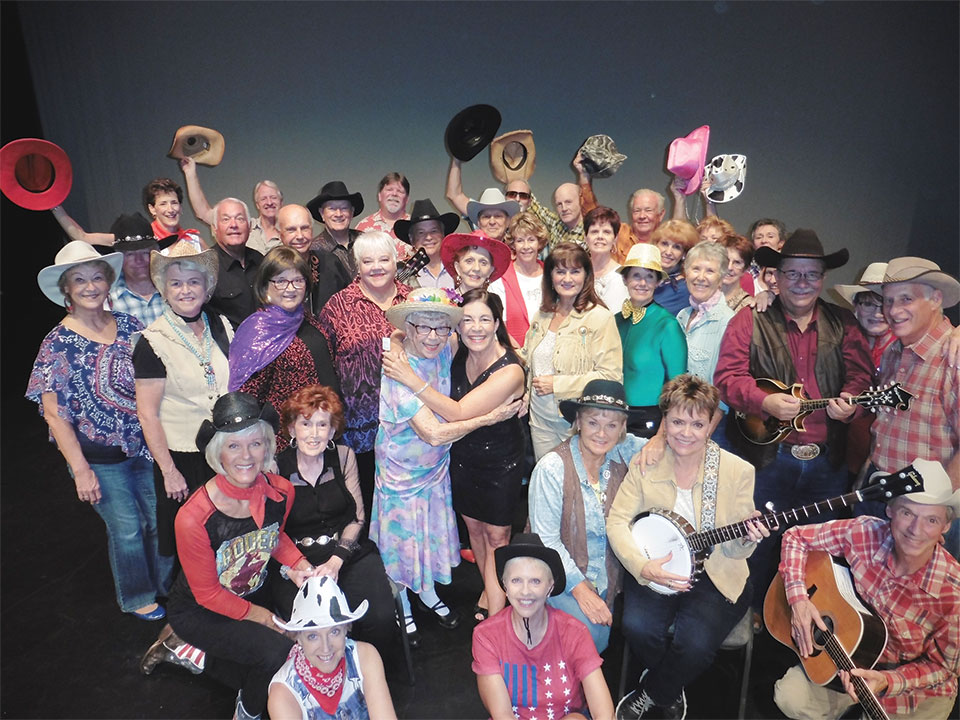 Laurie Farquhar
If you hear music and laughter coming from the Renaissance Theater, it is most likely the cast of ShowTime's upcoming production, Back to Nashville, as they get down to some serious rehearsing. This sequel to the very popular musical revue, Nashville to Vegas, promises to be even more fun than the original show and tickets go on sale this month.
Back to Nashville Director Chanca Morrell says that while this show includes great songs made famous by such legendary performers as Celine Dion, Blake Shelton and Hank Williams, it will also have the feel of being in one of Nashville's little cafés where some of country music's biggest artists got started. In addition, there will be comedy by PebbleCreek favorites Melissa Kallett and Dave Wattenberg, plus some high energy dance numbers by Dance Fusion.
Back to Nashville runs six nights from Monday, November 13 to Saturday November 18. Tickets go on sale Saturday, October 14, both online and in the Renaissance Theater, starting at 8:00 a.m. For more information on how to order tickets online, please see the accompanying article. Starting October 16, tickets will be available at the Eagle's Nest kiosk on Monday, Wednesday and Friday, 10:00 a.m. to noon. All tickets are $15 and can be paid for by cash, check or credit card (VISA and MasterCard). For tickets purchased online, there will be an additional $1.50 per ticket service fee. There is no additional fee for tickets purchased either in the theater or at the kiosk.
Back to Nashville showcases PebbleCreek's most talented singers, dancers and comedians, performing both Vegas-style and country numbers. It will be an evening of glitz, glamor, lights and action, so be sure to get your ticket for some great music and laughter. You may find yourself dancing in the aisles before the night is over.