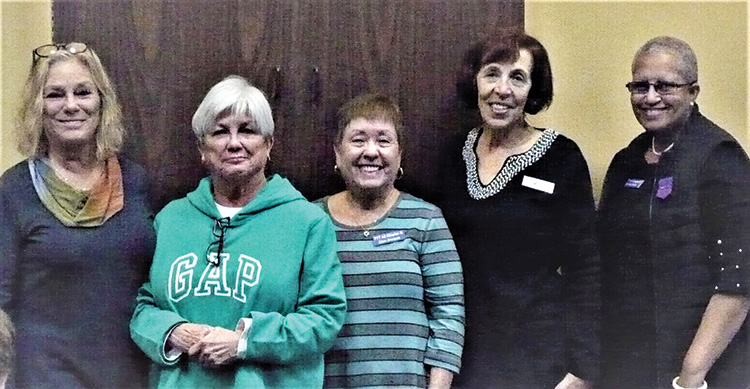 Penny Schneider
On January 3, in the Tuscany Falls Clubhouse, AZ Chapter Q of the National Time, Treasures, and Talent (T.T.T.) Society installed their new officers for 2020-2021. They are: Hilary Coltman, treasurer; Georgiana Woods, corresponding secretary; Ellen Stergultz, vice president; Gloria Kornbluth, recording secretary; and Cynthia Bush, president.
Returning officers Cynthia Bush and Hilary Coltman graciously remained in their positions from the previous year. Gloria Kornbluth, Ellen Stergultz, and Georgie Woods are first timers serving on the executive board. This board is the mainstay of our organization and these members are to be commended for their acceptance of the duties each position requires.
Organized in March 2007, our chapter has been active since its initiation into the National T.T.T. Society. Our annual fundraiser over the past eight years has been a very successful fashion show and luncheon in cooperation with Dillard's of Arrowhead Mall. This year's event will be held March 14 in the Tuscany Falls Ballroom and will feature the new lines of spring fashions modeled by both community and chapter members.
AZ Chapter Q remains committed to our mission of sending fourth-grade girls to summer camp. As a result, many young girls have shared their first outdoor nature experience with members of their own age group. Whispering Pines, the Girl Scout Camp, has been our camp of choice for this program and continues to offer our campers a wonderful experience.
For more information on the AZ Chapter Q and its upcoming events, please visit the National T.T.T. Society website, nationaltttsociety.org, or email Cynthia Bush at chbush2017@gmail.com.