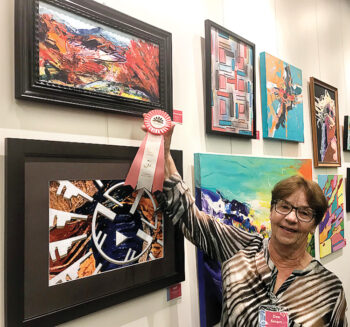 The PebbleCreek Art Club is so very pleased to announce Dee Smart as Artist of the Year for 2019. The announcement was made at the Holiday Luncheon in December.
Dee's love for art started at a young age when she thoroughly enjoyed making mud pies! She always wanted to be doing something with her hands. That was the beginning of working in many different mediums through the years. An aunt spent one-on-one time with Dee, showing her how to paint where she worked with powdered pigment mixed with a medium to make her paints. That time with her aunt set her on the road of discovering art. Her first real love was doing watercolors which she took while attending college, but she didn't stop there. She has also done work in acrylic and oil painting, bronze loss-wax sculpting, wood carving and gourds. After Dee was introduced to gourds, she started growing her own to make her beautiful creations.
Dee and her husband, Joe, moved to PebbleCreek in the fall of 1994. She was a founding member of the PebbleCreek Art Club, where she is a life-time member. She also helped establish the Creative Art Center. She has taught watercolor and drawing and currently offers a monthly critique for artists working on their paintings.
At the current art show at the Goodyear Library, Dee received the Goodyear Artist Award which was selected by the other competing artists. A high honor indeed!
This is what Dee says about her art, "I call myself an artist, but more appropriately I would say I am a 'maker' of art. At a young age mud-pies were my specialty and I never lost that desire to work with my hands.
The most fun I get from my art is sharing what I have learned with those who are looking to learn how to express themselves. If we all took the time to let our tensions go and draw something colorful, just for the fun of it, the world would have far fewer frustrated people in it.
Sometimes I feel disappointed in what I created that day. I put it away and get it out again another day and, like magic, I see it with new eyes and find it wasn't as bad as I thought it was. That is what I like to teach others; don't be so hard on yourself or to thrive for perfection. The most important part of art is being happy making art."
We are so glad Dee has shared her art with us and continues to "make" art. Be sure and stop by the Creative Arts Center and see some of Dee's fabulous work in one of the display windows. She also has a piece hanging in each clubhouse. Congratulations Dee on a well-deserved honor.