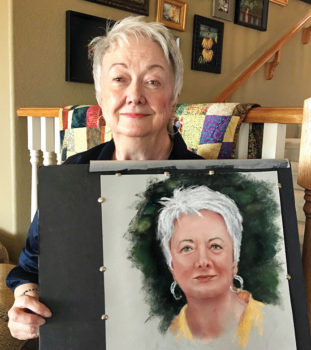 Sharon Adamy
If I were to introduce you to a former United Airlines flight attendant, a retired HP corporate manager, and the co-founder of Cookie Dough to Go, you might well assume you were meeting three distinctly different individuals so diverse are these occupations. Not so! You would be meeting Kathie Janda, the Art Club's Artist of the Month for April 2018. This is a deja-vu experience as Kathie has been thus honored once in 2007 and again in 2010.
Upon arriving in PebbleCreek, Janda pursued her passion for quilting, started watercolor and oil painting classes, dabbled in acrylic and eventually found her passion for painting with pastels. Her art instruction has included workshops and classes from Scottsdale Art School, Fred Alves, Jean Fondelier, Sharon Adamy, Liz Kenyon, Don Rantz and several workshops sponsored by the Arizona Pastel Artists Association where she is a member. She participates in area juried events such as the Glendale Art Show held annually at Saguaro Ranch and the member juried exhibitions sponsored by the APAA.
Kathie and Diane Greeneich instigated the Art Club's Paint-A-Round, an assortment of workshops offering novices a chance to try different mediums. All supplies were provided and were funded by the proceeds of a Studio Tour of PebbleCreek artists. The goal of the Paint-A-Round was to acquire new members into the PebbleCreek Art Club and it ran for three years. Starting with a handful of resident artists, the club now lists 171 members and sponsors two art exhibitions a year.
Janda was one of six PC residents who showed their work in the "World of Color" invitational event held in a PebbleCreek home in 2014. She also participated in last year's "Summer of Pastel," a display which showcased ten PC pastel artists and their work in the Creative Arts Building.
As is often the case, it takes a while for an artist to explore various styles and expressions before discovering that which is uniquely one's own. Kathie has a fondness for strong contrast in her paintings and leans towards food studies. She approaches her artwork in much the same way she has approached all aspects of her life…systematically. Kathie creates notans (value studies in black and white) before she begins to draw in her subject matter. Generally, she is attracted to unusual views of a subject and its presentation. On display in Tuscany Falls reception desk is Indian Summer Corn and Hong Kong Then and Now a reminiscence of one of the Jandas' world travels.
While her cookie dough may have been for sale in Neiman Marcus at one time, her paintings can more currently be viewed at the APAA national juried exhibition at the Sedona Arts Center in Sedona, AZ, March 28-April 10 and at the reception desks in Tuscany Falls and Eagle's Nest. You are also invited to view her work at the Creative Arts Center.