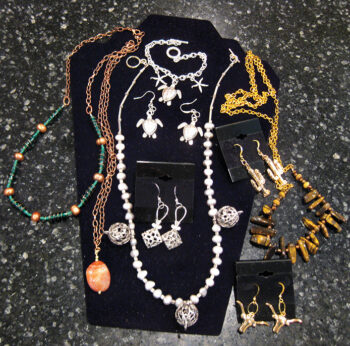 Sherry Blatner
September comes from a Latin root and means seven, but now of course, it's the ninth month in our PebbleCreek (PC) calendar. It has been such a long time since the Gallery closed, approaching seven months. My bucket list wish is to open an online shop in PC. Wishful thinking I guess.
Meanwhile, I know from chatting with friends, they are creating an overflow of items to present to you in the future. And with extra time on our hands, folks are trying new skills and with great success.
Now, here's a link to the attached photo. "Heavy metal" started as a scientific term and then was used to describe a genre of music, but now it describes jewelry—more September confusion. Think of all the ways metal may be utilized to complete a necklace, bracelet, or earrings. From chains to pendants or charms, metal is a compelling jewelry component. And colors are virtually limitless in costume jewelry —silver-tone, gold-tone, pewter, black, bronze, brass, or neon. Mixed and matched with stones, combinations are limitless and so is your style power. These items aren't really heavy to wear, just substantial to admire.
So, use your down time to imagine a sparkling future and hope for a rousing reopening to test your mettle!