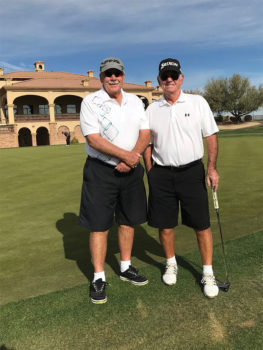 Howie Tiger
Bruce Carlyle and Butch Schoen, PCMGA members, came in third in the super senior flight (age 70+) of the Arizona Golf Association Club Team Championship. The format was a two-man scramble which calls for both players to tee off, then keep taking the best shot between them until the hole is complete. The championship final round was played at Seville Country Club in Gilbert on December 11.
In the finals, Bruce and Butch competed against 11 super senior teams from around the state. The weather was fantastic (low 80's) and prime for scoring. They described the Seville clubhouse as a mini version of the one at TPC Sawgrass. They shot a gross score of three-under-par 69 to take home third low gross. They had never played this course before and said the greens were huge, averaging over 40 yards from front to back. They made three birdies and no bogies. One of those birdies came on the par 3 17th hole which had an island green exactly like the one at TPC. Accuracy was definitely the key to their success as they were putting for birdies and eagles all day long and never had to chip.
FYI, Bruce is a past PCMGA President who has shot his age over 100 times. Butch is a retired fireman and also an amazing magician who has performed for celebrities all over the country.
The AGA Club Team Championship qualifying process began on September 7 in a local event held at our Tuscany Falls golf course (Lakes/Falls). Fifty-three teams competed for low gross and low net scores. Three teams in the all-age flights and two teams in the super senior flight advanced to a regional qualifier. The all-age teams that advanced included Wayne Gearig and John Curtin (low gross score 60), Brad Johnston and Ed Neel (low net score 56.8) and Ed Boehm and Derry Davison (low net score 57.4). The super senior teams that advanced included Mike Moy and Bill Todd (low net score 54.8) and Bruce and Butch (low gross score 64). Bruce and Butch had beaten Joe Little and Larry Dick in a scorecard playoff.
Several regional qualifiers were played throughout Arizona. In our area, teams in the all-age flights had a choice to play at either Las Colinas (November 2), Wigwam (November 9) or Arrowhead (November 27). The super senior flight also played at Arrowhead on November 27.
All five PebbleCreek teams gallantly competed and represented well our community at the regional events, however, only Bruce and Butch advanced to the championship final round.
In order to advance to the finals, Bruce and Butch had to compete against 11 other teams at Arrowhead Country Club. The scoring conditions were ideal again. They said the greens were very undulated and challenging. They had six birdies and three bogies for a low gross score of 69. They took second low gross enabling their advance to the finals.
Congratulations to Bruce and Butch for bringing glory to PebbleCreek!